Pure Religion Project James 1:27 – Santo Tomas, Guatemala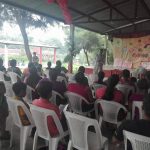 In 2016 we began holding Bible studies with a vision to open a new church in the canton of San Juan Maza in Santo Tomas la Union. Souls have been saved here. The work is going forward.
Presently we are partnering with a local specialty school.   We hold services here a couple of times a week. We also have one of our clinic locations here to offer medical help to the community. We also help many families in the community who have handicap children who come here for therapy and training.  Will you pray? Will you help?